The Best Contest Ever
by Mel Gilden
Last week was musical for Ms. Perry and I.  On Tuesday we went to the Walt Disney Concert Hall to hear chamber music by Shostakovich and Tchaikovsky.  The Shostakovich was a little modern for my taste — and apparently for many in the crowd — but the Tchaikovsky trio was nice.  It featured Chinese superstar Lang Lang at the piano.
The real treat came on the following Saturday when we heard Mozart's last three symphonies.  After two centuries, old Wolfgang is still a crowd pleaser.  At the chamber music concert, applause was appreciative but polite.  Mozart got an explosion of applause and a standing ovation that wouldn't stop.  I wonder what his film music would have been like.
(While at the Disney Concert Hall I purchased a Beethovan mug.  I suggested to the clerk that somewhere in the Walt Disney Concert Hall there was a representation of mouse ears, something that still strikes me as appropriate.  However, the clerk was horrified.  He believed that mouse ears belonged nowhere near this temple of culture.)
Earlier on Saturday I went to a lecture by Jean-Noel Bassior about Space Patrol, a TV show of my youth.  It was in black-and-white, of course, and any special effects were done live as the rest of the show, but I loved it.  Like Tom Corbett, Space Cadet, and Captain Video, Space Patrol was one of my first introductions to science fiction.  After watching them I was never the same.
Space Patrol ran the best contest ever.  The object was to name the planet the bad guy used as his base.  Not a very interesting question in itself, but the first prize was the kicker — a full size model of Commander Corry's spaceship to be delivered on a flatbed truck.  At the time there wasn't anything in the world I wanted more, and even now it looks pretty good.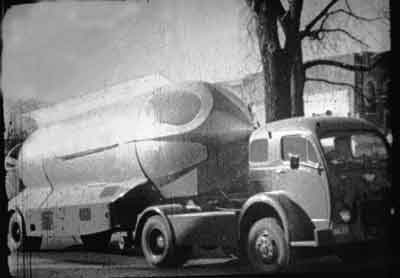 The Ralston Rocket (won by some kid named Ricky Walker. Sigh.)
As far as my mother was concerned, the big problem was that she didn't think I would eat the cereal — each entry had to be on the back of a box top.  I never got a box of Chex, so I never got to enter the contest.  I kidded Mom about this for years and at last she said, "Give it a rest," so I did.  Maybe the real problem was never the expense of the cereal but the question of where we would have put the ship if I'd won.  We had a driveway, but that's where Dad parked his car.  I don't think he would have given up his space for a space ship — not for long, anyway.
I still want that ship.
At the Space Patrol lecture folks speaking from the audience bemoaned the fact that kids today don't have wonderful shows like Space Patrol to entertain and inspire them.  After listening to this for a while I was tempted to reply that anything a kid watches when he is young will be fondly remembered and have an impact on his life.  (Some years ago I wrote a couple of episodes of He-Man.  To be honest, I did it for the money.  Some years later I was contacted by fans of the show who were just as stuck on He-Man as anybody ever was on Space Patrol.  As is often the case, entertainment and inspiration are in the eye of the beviewer.)
Thinking about this also reminded me of a story I heard about today's kids not knowing how to work a rotary telephone.  The guy telling the story thought this was pretty humorous.  But if you think about it, any person alive today has no more use for a rotary phone than he has for a blunderbuss.  I wonder how much that guy knew about iPods™.