Speaking of Agents
by Mel Gilden
It's been a busy few months finishing and then editing Dr. Big. Reader Evelyn says that it "shows great promise," which is code for "it needs some work." I find that I agree with 80 or 90 percent of her comments, but even the ones I don't agree with cause me to think about what I've done — always useful. Sometimes that sort of thought actually convinces me more than ever that what I wrote earlier was right.
The hero of Dr. Big is a kid named Reed Gladstone, and I've been thinking about other books that might appear in the Reed Gladstone series. I have ideas for two more books, but I find myself putting off working on either of them until I'm sure somebody wants to publish them.
Meanwhile, I'm writing other things:
The Los Angeles Times is still publishing fiction on their Kid's Reading Room page, but the Chicago Tribune — current owner of the Times — has changed the nature of the beast. The Page used to run a five part story each week, with a one part story on Sunday. As of a week or two ago, they run only one story per week, and that on Sunday. I used to have 1500 words to tell a story; now I have only 600. It can be done, but it ain't easy.
I signed up with an agency that represents ghostwriters. People come to them with an idea for a book or a story, and the agency puts them together with a professional writer who can fill in the empty spaces. I've spoken to a few clients, but have not yet actually hooked up with one. I understand why a famous person might want his or her name on a book. It is good advertising, showing them in a good literary light. But why a civilian would want to have his or her name on a book that somebody else wrote is beyond me. Still, the service is not cheap, so they must have their reasons. I always do my best to give them what they want.
Speaking of agents, I believe I am very close to signing with one at last. She has already shown an interest in Dr. Big, but has not yet actually committed herself. She'll be back in the office on March 12. I hope to hear from her soon after that. I'd like to get my career back on the road.
Very much enjoyed Night In The Museum, a recent family movie. Reviews that I saw in the local paper and on line accused it of being dull and ridiculous. Reviewers claimed that couldn't even sit through it. Did we see the same movie? I thought it was lots of fun, enormously entertaining. Go figure.
Speaking of movies, I see that in a few weeks something called Mimzy will be released. I haven't seen it yet, of course, but according to the film's website, it is based on an old Lewis Padgett (pen name for Henry Kuttner writing with C.L. Moore) story called All Mimsy Were The Borogoves. I have no idea why they're spelling Mimsy with a Z — maybe because it appears more like science fiction. I look forward to seeing it.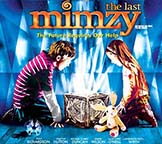 Mimzy, it turns out, is the rabbit.
The Sweetie gave me a Netflix subscription for Christmas last year. I have been having a swell time catching up on a lot of old and more recent movies I would like to see but not necessarily own. I saw The Lion In Winter last night. Beautifully done.