A Good Rotten Movie
by Mel Gilden
I have often written about good writing in movies and books, most recently about His Girl Friday, and how effectively the screenwriter gives you all the backstory you need in a dramatic and interesting way.
But not every movie is beautifully written, nor does it need to be. I'm thinking now of what my mother used to call a "good rotten movie."
My mother was a stay-at-home homemaker type like June Cleaver. One of her jobs was doing the ironing, which she generally saved until the weekend.
More often than not she would set up her ironing board in front of the television, and her three sons would gather around. "Find a good rotten movie," she would suggest, and I, being the oldest, would begin to study the TV listings.
We were not looking for something educational, deeply meaningful, or a serious study of the human condition. A comedy was always our first choice, but if one of those wasn't available (in those days we were at the mercy of the TV stations), we would look for something predictable, fast-moving, and full of interesting characters. Many times this sort of movie was a grade B or C western or mystery story, and I think most of them were in black-and-white rather than color — but I may be remembering them that way because we had a black-and-white TV. In any case, a Charlie Chan movie was always a particular favorite.
(In those days we didn't think much about the fact that Chan was played by a white guy, or that he spoke in fortune cookie dialog. We just thought the movies about him were fun.)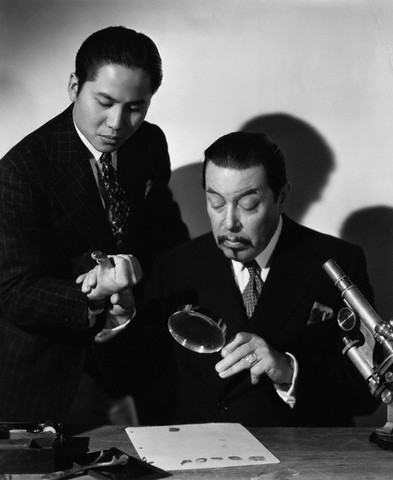 All the Chan movies were similar. World famous detective Charlie Chan arrives in town to see an old friend. Soon the friend, and therefore Charlie, is involved in a murder investigation. Among the suspects, and there are always many, are beautiful women and sinister men. Nobody makes fun of Charlie's appearance or his difficulty with English — not in front of the camera, anyway. As the story unfolds, Charlie collects clues, remarks on the proceedings in dialog that sounds like Chinese adages, and his son (Number One or Number Two, depending on the movie) humorously produces wrong theory after wrong theory. At last Charlie succeeds in tricking the murderer into revealing himself.
As much as I enjoy novelty, sometimes it is the very predictability of these movies that makes them fun to watch. No worries about too much violence or whether Charlie will find the culprit. Watching one of these movies is like settling into an favorite overstuffed armchair.
Too much stress in your life? Doing work that doesn't require much concentration? Try a good rotten movie. It works for me.