Stand Up and Cheer
by Mel Gilden
No one is more surprised than I am that I am writing Part Three of my experiences with professional science fiction writers, but here I am and here it is.
Some years ago — the bygone era when it seems that everything happened — my girlfriend of the moment and I were invited to the birthday party of Michael Reaves, a writer well-known for his TV cartoons as well as his witty novels. Michael had invited a number of his writer friends as well as a selection of neighbors with whom he'd become friendly. The assembled party looked like a wedding between a Montague and a Capulet: with all the writers sitting on one side of the room, and all the neighbors on the other.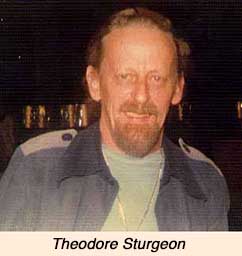 The party was rolling along pretty good when I looked out the screen door and saw Theodore Sturgeon, a writer who was nearly legendary for the quality of his short stories, coming up the walk. I passed the word, and by the time Sturgeon arrived at the door, all the writers were on their feet out of respect. Meanwhile, the neighbors, still seated, looked around in confusion while they wondered what they were missing. We writers felt proud of ourselves at being in with the in crowd.
Looking back on that moment, I don't think we had any right to feel that way. Even if one of those neighbors had read Sturgeon, there was no reason the neighbor should know what he looked like.
I believe it was in the late 1970s that I witnessed yet another display of respect. It wasn't a standing ovation, but it might as well have been. In some ways it was even more impressive. We've all heard the phrase "a legend in his own time," but this was one of the few occasions I'd seen it demonstrated.
It happened at a world science fiction convention in San Francisco. Much too early on a Saturday morning the professional writers at the con dragged themselves out of bed to be present at the official business meeting of the Science Fiction Writers of America. I would need the digits of both hands and feet to check off the famous and infamous writers who were in that room.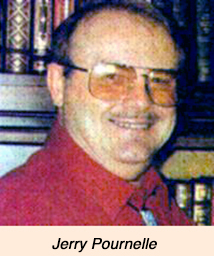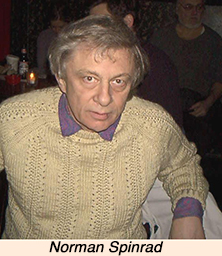 I believe that Jerry Pournelle, a man known for his carrying opinionated voice, was the president that year. At the moment of which I am speaking, Norman Spinrad, also known as a man who was not reluctant to speak out, was haranguing him from the floor about some point of information or order. The rumble of various private conversations continued.
Meanwhile, at the back of the room, an anthology of bleary-eyed writers were walking in and out carrying cups of hotel coffee.
Then one more man entered the room, a handsome older gentleman dressed as if he'd just stepped off his yacht. It was Robert A. Heinlein, perhaps the best known and most respected science fiction writer of the 20th century. I don't know how it happened, but word of Mr. Heinlein's arrival flashed instantly around the room, and in a few seconds the whole ballroom fell silent. All eyes were upon him as he stood in front of an empty folding chair in the last row.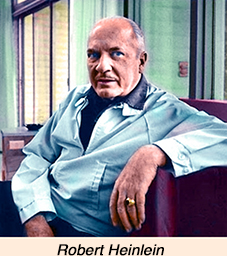 "Good morning, Mr. Heinlein," said Jerry Pournelle in a quiet deferential tone that I had never before heard coming from his mouth.
"Good morning, Mr. Chairman," Heinlein said. "Please continue." He sat down, and by golly if the meeting didn't continue at the same volume it had before.
•••
I believe that's all for meetings with the great and the near great, though I may think of others later. I guess I sometimes hang around with a better class of people than I thought. Next week something new.